When Mickey Jannis leaves for the ballpark, his family does not bid him good luck or tell him to do his best or give him any parting words of advice. Instead, what they say is, go put on a show.
It's a joke, kind of, but there's some truth under it. Jannis is a knuckleballer, and what is throwing a knuckleball if not practicing a rare, fabled performance art? The pitch flutters and darts in a way that can seem like an illusion. Even if you've seen it plenty on TV, "seeing it in person is so much different than seeing it on video," Jannis says. "It tricks your eyes." And there's a natural comedy to the whole thing: Look how the hitter can be fooled by a pitch he knows is coming, one with velocity low enough to work on a highway, or how the catcher might find himself flubbing the most basic components of his job. Look how the pitcher himself can suddenly lose his touch for it! (No one said the comedy wouldn't turn dark.) It can be art, or it can be slapstick, but it's always a show.
And so when Jannis is somewhere new, he might go out for a bullpen session, and 10 or 15 people will inevitably crowd around. They come because they want to see a show, and they come because they have never seen a big league knuckleball up close.
How could they have? Jannis is—at least for the moment—the last big league knuckleballer.
---
Hall of Fame hitter Willie Stargell called the knuckleball a "butterfly with hiccups." But that butterfly has always been scarce, and it's looked increasingly endangered as of late. The potential impending death of the knuckleball has inspired trend pieces for decades. Yet there always was at least one standard bearer for the pitch: The Niekro brothers overlapped with Charlie Hough, who gave way to Tim Wakefield, who passed the torch to R.A. Dickey. But Dickey retired in 2017. (A possible successor, former Red Sox pitcher Steven Wright, derailed his career after violating the domestic violence policy and testing positive for steroids and has not pitched in the majors since 2019.) This means it has been years since anyone was keeping the knuckleball alive in the big leagues.
Well—kind of. There's Jannis, who spent a decade grinding before getting called up for a single game with the Orioles in 2021, now trying to make his way back to the majors. In the pipeline, there's Matt Waldron, a Padres prospect who spent most of last year in Triple A El Paso. And that's the end of the list. Last season passed without a single knuckleballer spending time on a big league roster. This season, Jannis and Waldron hope to change that. But there's still no apparent, long-term caretaker of the pitch.
So: What's it like to be the last of the knucklesaurus?
"You want to keep it around," Jannis says. "But in this day and age, it's just really tough to develop. I feel like people want quick results, and the knuckleball is the complete opposite of that in trying to figure it out."
That's long been part of the struggle with the pitch. A few years after Phil Niekro retired, the Tampa Bay Times asked him why there weren't more knuckleballers. "Who is going to teach it?" lamented the man they called Knucksie. "That's the big drawback." And that's still true even in an era of sophisticated, technologically advanced pitch design.
Jannis learned the pitch mostly on his own. A 44th round pick for the Rays in 2010 out of Cal State Bakersfield, he realized after a few years that he wasn't likely to make the majors while topping out at 92 mph. So he decided to reinvent himself and dedicated himself to the knuckler. It took years of trial and error, dipping from the minors to independent ball and bouncing among organizations while he refined the pitch. But finally, in June 2021, he was rewarded with a call-up to the Orioles at the age of 33. He pitched in one game—a few innings in relief, starting with a strikeout, ending with a few unfortunate home runs—and was sent back down afterward. Last year, he was back in indy ball, pitching in the American Association and Atlantic League, and he's currently a free agent, having spent the spring throwing for several interested teams out in Arizona.
That puts Jannis in a situation that might have other pitchers despairing: 35 years old, 3.1 career MLB innings to his name, still looking for his next shot. But for a knuckleballer? The aging curve is generous enough that 35 might as well be 25. If the relationship with the pitch can be finicky, well, a good pitcher will have a lot of time to keep practicing it.
"It's not just like a quick tweak, and then all of a sudden you figure it out forever and ever," Jannis says. "It's a matter of getting that consistent feel down with the grip. That's the tricky part. It's a feel pitch."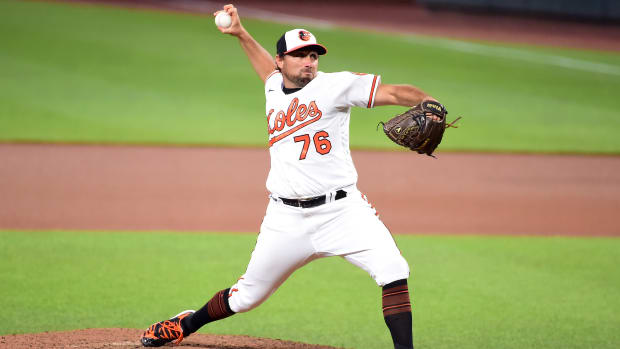 Waldron's journey with the knuckleball has been a little less lonesome: The Padres encouraged him to develop the pitch and have supported him through the ups and downs. But his experience has still been mainly self-directed. He'd started playing around with the pitch as a kid, growing up in Nebraska, and had always been fond of it. But he'd never thought seriously about trying it in a game. At spring training in 2021, however, Waldron threw a few knuckleballs while joking around with some fellow pitchers. A team staffer took notice and made a request: Do that in front of the Rapsodo. The pitch-tracking device confirmed the desirably low spin rate, and so the team encouraged him to work on it, maybe even try it out in games. That year in High A, he began throwing it as a secondary pitch, just a few per game. Midway through the season, he got a message from the front office: What if he threw the knuckleball more often? Like, say, 80% of the time, starting the next week?
"I kind of immediately was like, Okay, sounds good," Waldron laughs. "I didn't really realize how big of a commitment it was. But fortunately it's worked out."
Technology helps: Getting an instant read on movement and (lack of) spin makes it easier to confirm it's working. "Sometimes, my eyes would lie to me," Waldron says. "It would feel good, but it wouldn't move, so it would be kind of hard to tell." The pitch can fool the man throwing it as much as the man trying to hit it. But quick fixes remain hard to find here. Even as the growth of video and data analysis has made it easier than ever for clubs to pinpoint mechanical issues or identify specific potential tweaks, the knuckleball can still be stubbornly hard to solve. The sample sizes are small—teams don't have many successful examples to study—and the conclusions are limited.
"That's where the part is that people shy away from," Jannis says. "It's like, instead of him taking a year to figure out how to throw a knuckleball, we can tweak his grip this way or that way with his fastball or slider, and then he becomes a new type of pitcher. Which would happen a lot quicker than developing the knuckleball."
The process of mastering the pitch is not always linear. (Mistakes, of course, are punished heavily.) Last year, Waldron had a 2.84 ERA in nine starts in Double A, followed by an 8.44 ERA in 16 starts in Triple A. When there's no veteran teammate to ask for pointers, and no pitching coach with substantial personal experience, it's sometimes hard to know how to adjust. So the best resource is often turning to the few who have figured it out. The Padres set up Waldron on a few Zooms last year with Wakefield and made sure he had Dickey's number.
"They want to see that pitch at the highest level again," Waldron says. "So they have that interest in it."
What the knuckleballer fraternity lacks in size, it makes up for in strength of brotherhood. They all know what it's like to feel like the misfit of the pitching staff. Many of them already had some kind of unconventional path: They came to the knuckleball as converted position players, or aging pitchers looking for one last way to stick around, or guys whose capacity as tricksters outweighed their physical gifts. That's much of the beauty of the pitch. It seems like anyone—regardless of age or athleticism—could hypothetically master the knuckleball. Yet so few have.
"You just have to throw it with conviction," Jannis says. "Where you're like, I'm gonna throw this up there at 77 miles an hour, and you can't hit it… Here it comes again, here it comes again, here it comes again. And even if he does hit it? It's still, all right, here's the next one."
Here, they hope, will be the next one.