A phone on a bedside table isn't good for your health
When you finally wrap up your busy day and settle into bed, it can be challenging to stop doomscrolling on social media and put your phone down. Several studies suggest reading or light meditation is much better, as it calms your mind and brings it to a restful state.
Most of us feel the need to have our phones next to us at night as we use them as an alarm. But that doesn't have to be the case. There are plenty of gadgets and cool alarm clocks that do that for you, so there is really no excuse to have your phone within grasping distance.
Shop this article: Loftie Clock, Restore 2 and Philips Smart Sleep Wake-Up Light
Wake up the right way
There is nothing worse than being jolted awake through an ear-piercing tone from your phone. If you're in a deep sleep, the sudden activity in the brain can cause anxiety, and that's not a good way to start your day.
There are many reasons people oversleep, but the most common is not getting enough shuteye or that the brain remains active for too long after you turn the lights off. Your eyes might be closed, but that doesn't mean your brain stops working. Your bed could also be to blame, so you might want to consider upgrading to a king mattress.
Getting into bed at a decent time is crucial, as is the waking-up process. One of the best ways to rouse from your slumber is by tapping into your body's natural circadian rhythms and the cycles of your sleep. It's tricky to figure out, but there are ways that you can slowly bring your body out of a deep sleep. It most definitely doesn't involve a screeching alarm, a bucket of water or several email notifications.
Known to many as sunrise or waking alarms, these gently simulate a sunrise with changing colors and light intensity. Sometimes the lighting is accompanied by nature sounds or soft audio that guides the brain and your body to arrive at a natural waking state. After some time, your body should adjust to the new rhythms and wake up feeling refreshed.
If that is too esoteric for you, other gadgets will definitely have you flying out of bed, ready to conquer the world. From smart displays and speakers that wake you up with the latest news to old-school alarms that hammer on two bells, there is no reason why your mobile phone must be in your bedroom.
Best alarm clocks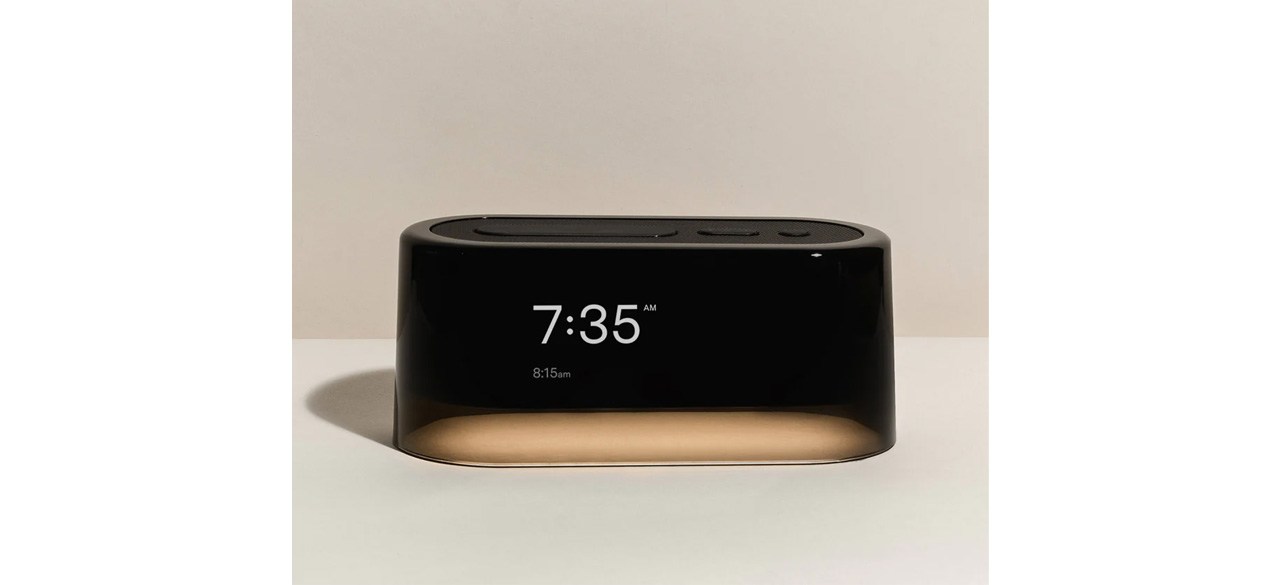 The company behind this alarm clock says it is the first such device with "personalized content, from bedtime stories to white noise and sleep sounds." The elegant gadget has a text-based display on the front and several buttons on the top. Once your desired wake-up time is reached, it kicks off a two-phase alarm that uses soft tones to wake you up. It also helps with falling asleep — you can choose from sleep sounds created by musicians and sleep scientists.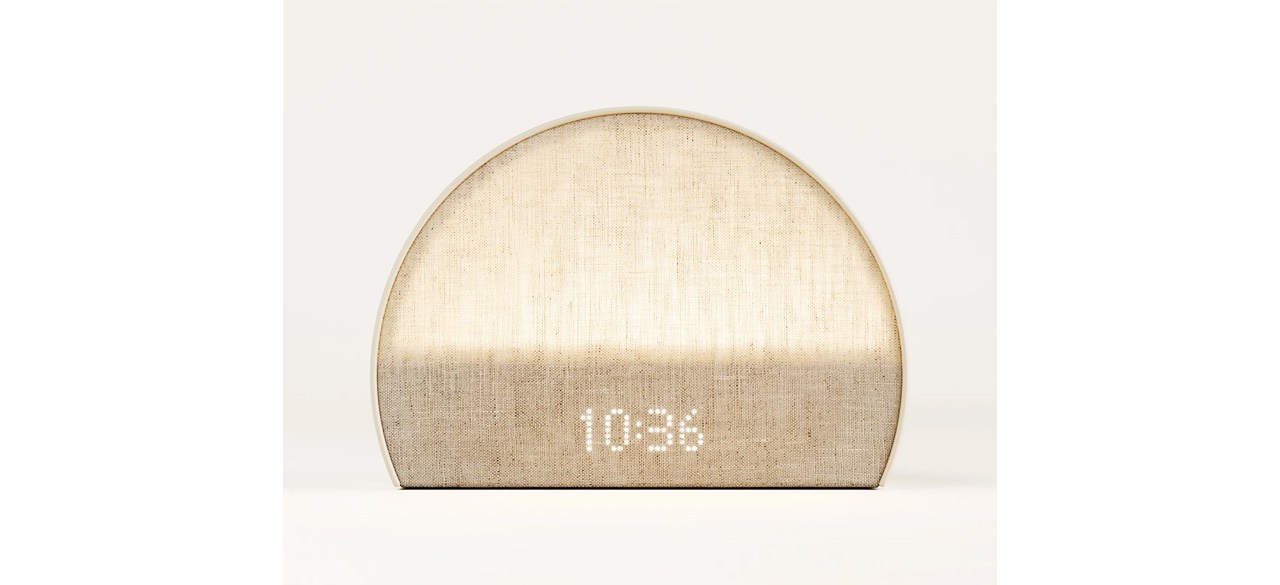 This is a high-tech gadget that aims to wake you up naturally. Coming in three colors that fit in with most bedrooms, it uses a gentle sunrise alarm that supports your natural circadian rhythm. It has a night light built into the design that helps you fall asleep, too. So now you can fall asleep to white noise and wake up to forest birds.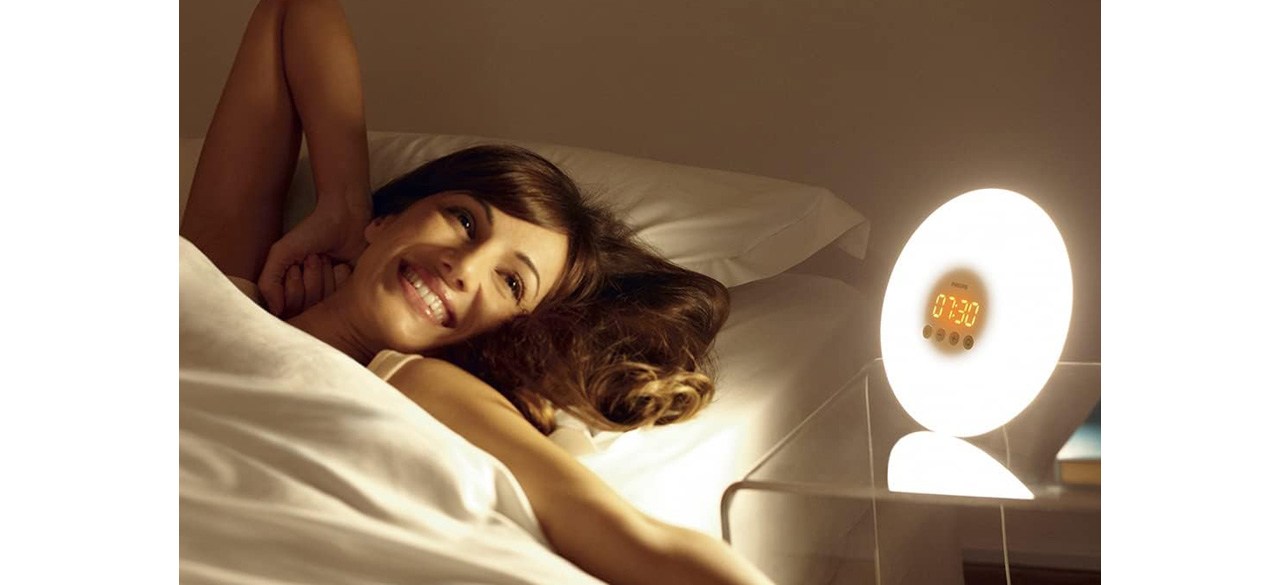 Philips Smart Sleep Wake-Up Light
With a large light area and circular design, this smart light simulates sunset and sunrise to help you through the entire sleeping process. The alarm starts off by beaming a soft morning red light 30 minutes before your wake-up time. It gradually evolves to a natural bright yellow light, accompanied by natural sounds, so you wake up feeling refreshed.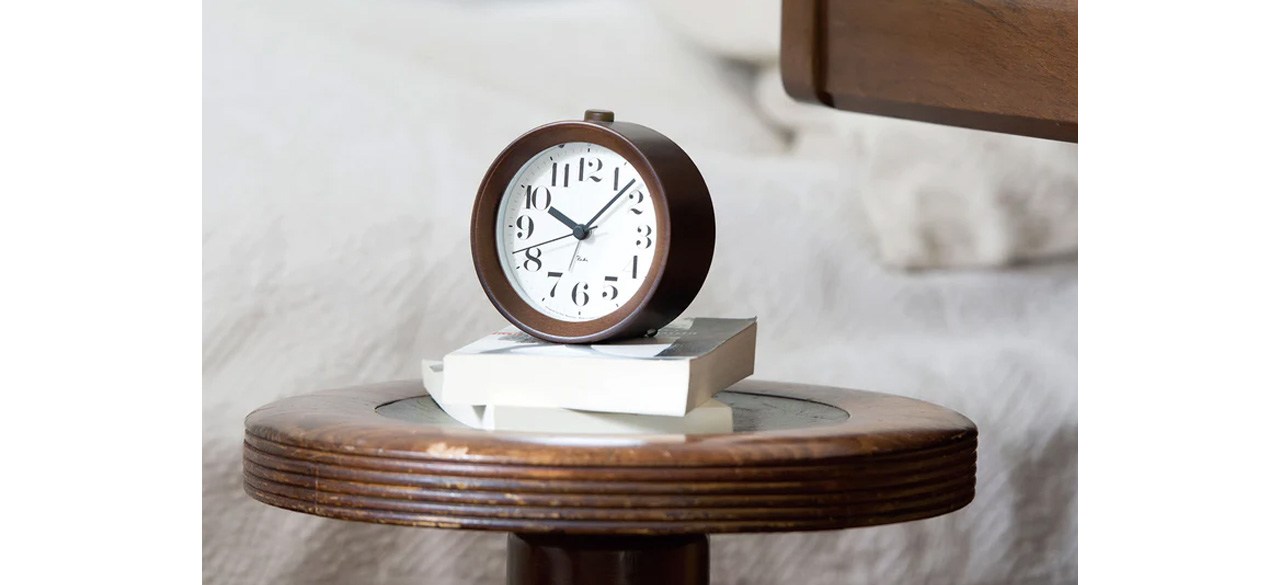 Taking a minimalist approach to waking up, this beautifully designed wooden clock has easy-to-read numbers, non-ticking hands and a single button on the top for the alarm, snoozing and activating the light. It operates on batteries, so you'll still wake up even if the power goes out overnight.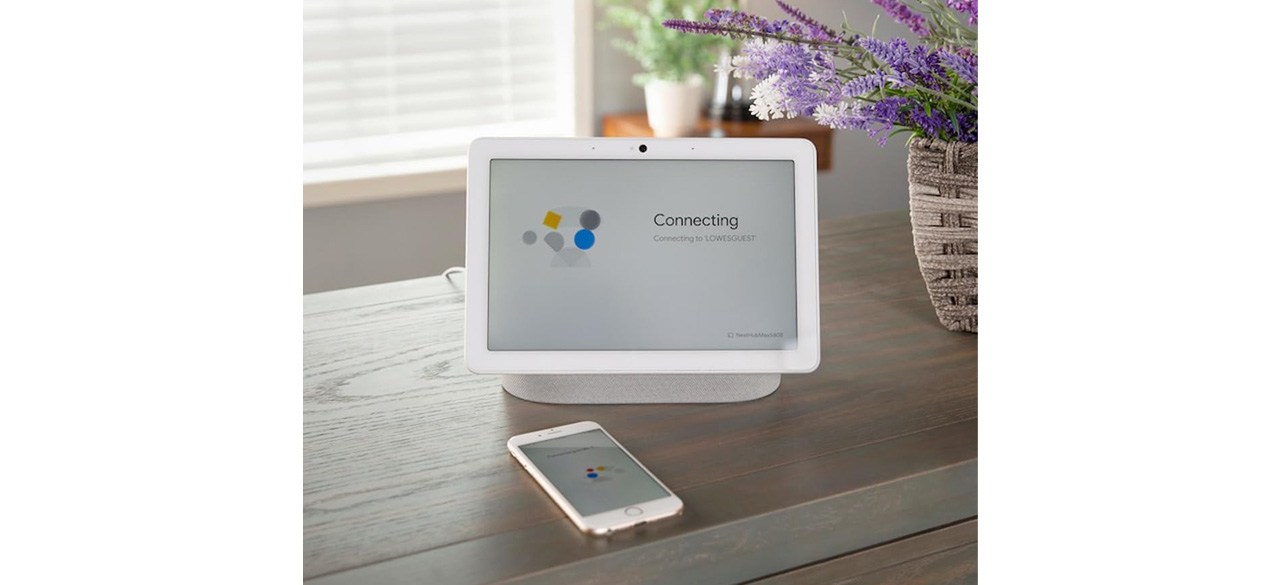 Instead of grabbing your phone first thing in the morning, wake up to gentle sounds or the latest news with Google's smart display and speaker. While it's a powerful home automation and hands-free information gadget, the alarm functions are exactly what you need for a good night's sleep. There are different sounds to wake up to, and the display automatically goes into night mode when the lights are turned off.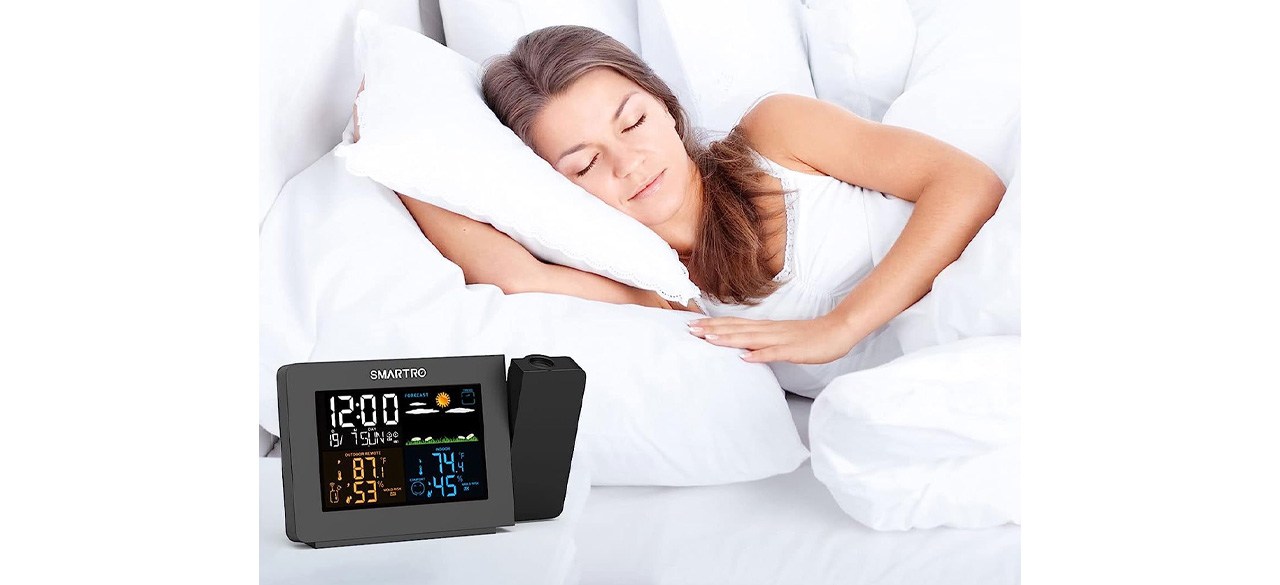 Smartro Projection Alarm Clock with Weather Station
Most of us start the day by taking a look at the weather or taking a peek at night to see what the next day's conditions will be. But put your mobile phone down and use this cool alarm clock instead. Through a swivel part on the side, it projects the time and temperature onto a wall. The 4.5-inch LCD display shows the weather forecast, humidity, indoor temperature and the time. It has a dual-alarm system where you can set two alarms simultaneously.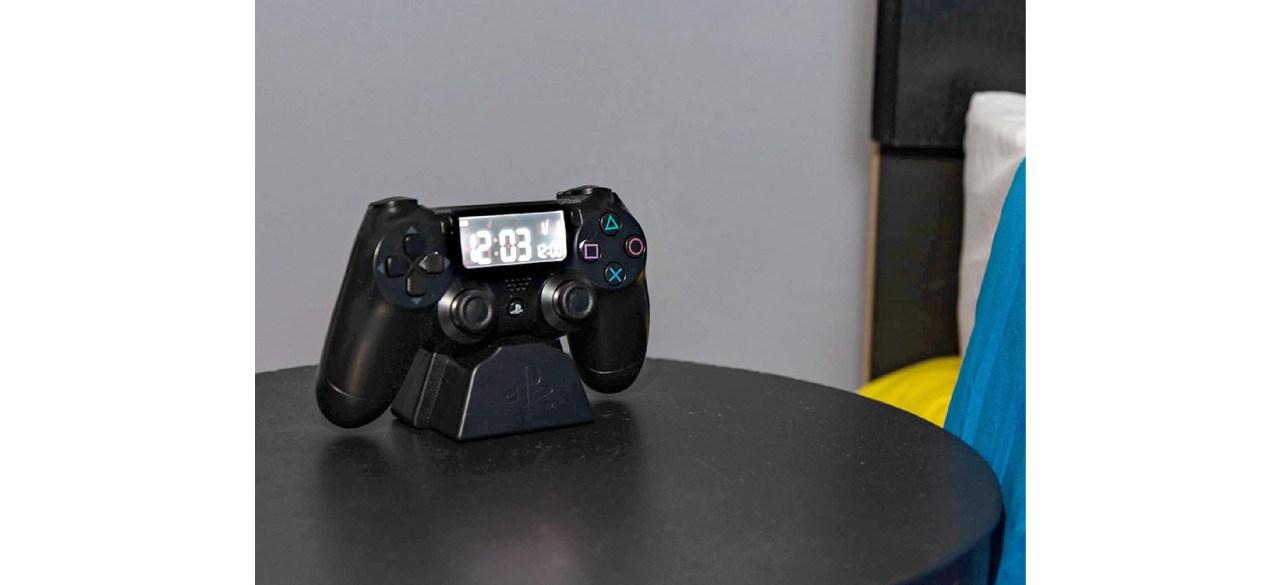 Paladone Playstation Controller Alarm Clock
If you're a gamer, this is definitely one of the coolest alarms that will replace your phone as a wake-up and time-keeping gadget. Officially licensed by Sony, this alarm is a PlayStation controller with the same dimensions as the real thing. The clock display is where the touchpad would be, and it has all the functioning buttons.
Alarm clocks worth checking out
Want to shop the best products at the best prices? Check out Daily Deals from BestReviews.
Sign up here to receive the BestReviews weekly newsletter for useful advice on new products and noteworthy deals.
Charlie Fripp writes for BestReviews. BestReviews has helped millions of consumers simplify their purchasing decisions, saving them time and money.
Copyright 2023 BestReviews, a Nexstar company. All rights reserved.