SATURDAY NIGHT FORECAST UPDATE: The severe threat is over. A cold front has moved through the Miami Valley and we are seeing dry air and clear skies. It won't last for long. Cloud coverage will return Sunday morning. Rain will be off and on all day. Temperatures will be cooler hanging out in the 50s much of the day with dreary conditions.
EVENING FORECAST UPDATE: The persistent rain is coming to an end. We will continue to see scattered periods of rain with a chance of thunderstorms.
A cold front will move through the region between 8 and 11 p.m. A line of thunderstorms has developed just ahead of the front in Indiana. These storms will move through the Miami Valley. Stronger and possibly damaging wind gusts will be possible. Once the cold front passes we will have drier conditions overnight before scattered rain showers return on Sunday.
AFTERNOON FORECAST UPDATE: Persistent light to moderate rainfall continues to soak the region. A few areas are starting to see heavy downpours.
Between 5 and 10 p.m. we will be watching for stronger thunderstorms to develop. The rain will become scattered and stronger storms may produce damaging wind gusts. There is a very low risk for a tornado.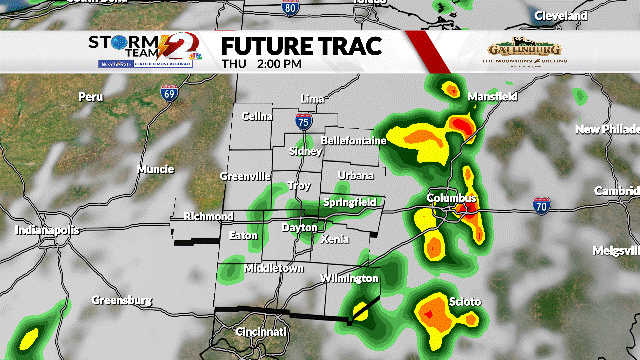 A low-pressure system is centered near St. Louis, Missouri. The low will move east toward Ohio on Sunday. In the meantime, a warm front has moved north of the region and behind the front, we are seeing gulf moisture being brought into Ohio.
The cold front will move through the Miami Valley late this evening. As the front moves through we will have the chance to see a few thunderstorms with gusty wind.
We will have to watch out for some isolated areas of flooding as bands of heavy rain move north out of Kentucky.
Here is a look at additional rain possible as we head into the Sunday morning.
MIDDAY FORECAST UPDATE: Rain showers continue to move in the area.
Rain showers and thunderstorms will continue to overspread the area today. Some storms will contain gusty winds and a few could become severe later this afternoon with damaging winds being the primary threat. pic.twitter.com/lt1OgcdnfC

— NWS Wilmington OH (@NWSILN) April 10, 2021
MORNING FORECAST: Spring showers and storms are in the forecast for this afternoon. A few storms may become severe. Gusty winds and heavy downpours are the main threats. Turning cooler and breezy for Sunday.
Isolated severe weather will be possible this afternoon and evening. While damaging straight line winds are the main threat, a weak tornado cannot be ruled out. pic.twitter.com/DwHZqYXnji

— NWS Wilmington OH (@NWSILN) April 10, 2021
TODAY: A few morning showers, PM scattered showers and storms. Breezy. High near 75
TONIGHT: Scattered showers and storms. Low 49
SUNDAY: Breezy and cooler with scattered showers. High 56
Highs reach near 70 on Monday. The rest of the week looks cooler with highs only in the 50s and 60s. Low chances of rain for the week ahead.